Six people died in Alabama after tornadoes ripped through the state Thursday, destroying homes and causing what the Selma mayor called "significant damage."
The deaths occurred in Autauga County, northwest of Montgomery, county Emergency Management Agency Director Ernie Baggett said.
He said a tornado hit the communities of Old Kingston and Marbury, with a suspected path of about 20 miles.
"We have about 40 to 50 houses that we know are damaged or destroyed right now," Baggett said.
In Selma, Mayor James Perkins Jr. told a news conference that the city was assessing the extent of the damage and no deaths had been reported as of Thursday afternoon. He asked residents to submit photos of any damage they see around Selma.
"I thought it was over for me," Bobby Green, who was in his car when the storm hit Selma, he told Birmingham's NBC affiliate WVTM. He said his car was covered in so much heavy debris that he had to climb out of the passenger window.
Emergency response teams were on the ground to provide assistance.
"We have received many devastating reports of damage," the National Weather Service in Birmingham said in a declaration. He said storm surveys to confirm tornadoes could take days.
Most of Selma's streets are closed due to downed power lines and trees, according to a facebook post from the city. Selma officials implemented a dusk-to-dawn curfew and warned residents that exposed power lines created a dangerous situation.
"All schools have reported that students are in school and safe. It is not safe at this time to go to schools or allow children to leave school," authorities said.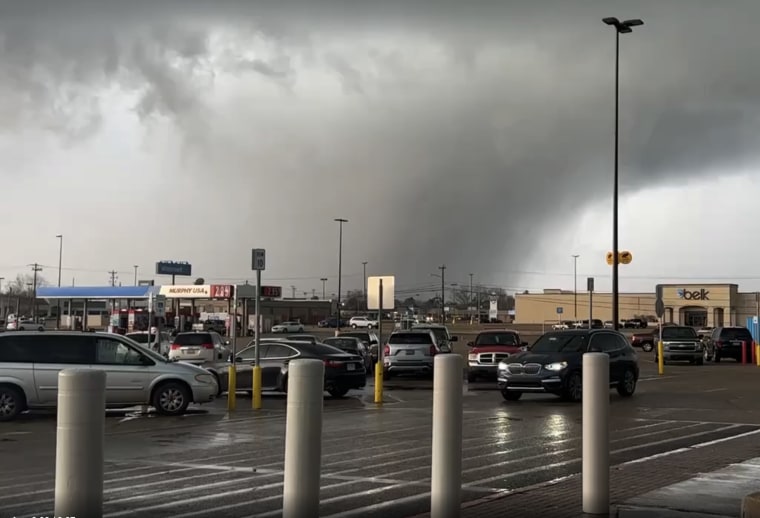 About 10,000 homes and businesses in Selma were still without power as of 7:30 p.m., including most of downtown, Perkins said. He said crews were on the way to make sure cell service wasn't lost in the city.
With the power out, the Selma City Council held an emergency meeting outside, with audio recorded on a cell phone and broadcast on Facebook. Some members were unable to attend due to extensive damage to their homes. The agency allocated $2 million of its budget surplus for the disaster.
shared people photos and videos of damage around Selma, some showing entire streets where various buildings appeared to have been demolished. A shared user more than two dozen photos to Facebookshowing collapsed houses, fallen trees along roads, and even a car that appeared to have been crushed by a downed power line.
A Twitter user posted a video of what appeared to be a funnel cloud landing from his vantage point on Interstate 65.
Flights at Hartsfield-Jackson Atlanta International Airport have been ordered to a ground stop due to thunderstorms, the Federal Aviation Administration said Thursday. The layover was lifted, but the FAA reported an average delay of 26 minutes for flights out of Atlanta.
An airport spokesman said the situation is being monitored and there has been minimal impact on Hartsfield-Jackson.
In Morgan County, the sheriff's office said numerous buildings were damaged during a storm. About 10 people were injured, but none appear to be life-threatening. Decatur, in Morgan County, saw overturned trucks and several downed trees. Police said there were minor injuries.
There were 42 reports of tornadoes Thursday, mostly in Alabama, but a few in Georgia and Kentucky, according to the weather service. Whether and how many were tornadoes should be verified through storm surveys.
Significant damage has been reported in Hale, Bibb, Sumter and Autauga counties in Alabama.
In Spalding County, Georgia, the sheriff's office reported "massive amounts of trees" were downed, blocking roads and downing power lines. The town of Griffin, which is in the county, sustained damage and urged residents to stay home.
One car was mangled and flipped on its side in a parking lot at a Walmart in Griffin, and another was lifted and ended up partially on top of another vehicle. video from Atlanta's NBC affiliate WXIA presented.
Alabama Gov. Kay Ivey said she was saddened to learn that six people lost their lives in her state.
"My prayers are with their loved ones and their communities. We are all too familiar with devastating weather, but our people are resilient. We will get through this and be stronger," he said. tweeted.
Ivey issued a state of emergency for six counties Thursday: Autauga, Chambers, Coosa, Dallas, Elmore and Tallapoosa.
Georgia Gov. Brian Kemp also declared a state of emergency, saying he was directing agencies to "respond with an all hands on deck approach" for affected communities.
Nearly 4 million people had been under tornado watches Thursday night but later expired, according to the weather service.
Wind advisories covered 17 million people Wednesday night, according to the agency, and Atlanta could see gusts of up to 40 mph.
CORRECTION (January 12, 2022, 6:48 p.m. ET): An earlier version of this article misrepresented the name of Montgomery's NBC affiliate. It is WSFA, not WFSA. Additionally, a previous version of this article erroneously stated where the Autauga County Emergency Management Agency is located. It's in Prattville, not Prattsville.