Netflix has just unveiled and confirmed some of its big movies scheduled to release throughout 2023. Below, we'll walk you through all the new release dates for all the movies opening globally this year.
If you'd like to see an expanded version of this list (which will be updated with new information), check out our guide to movies coming to Netflix in 2023 and beyond.
Next, we'll break down the newly announced movies and their dates into months where they're available first, then go to windows (ie spring and summer) and any that don't have a firm window. We'll also link each title to the respective previews so you can dig deeper into what each movie is about.
---
Netflix Original Movies Coming to Netflix in February 2023
true spirit – February 3rd

Based on the book by Jessica Watson, this drama tells the story of Jessica Watson (played by Teagan Croft), who sets out to be the young woman who will sail alone around the world.

Bill Russell: Legend – February 8th

Documentary about the NBA legend.

your place or mine – Feb. 10

Romantic comedy starring Reese Witherspoon and Ashton Kutcher.

we have a ghost – February 24th

David Harbor and Anthony Mackie star in this adaptation of a tale about a family that encounters a ghost named Ernest.
---
Netflix Original Movies Coming to Netflix in March 2023
---
Netflix Original Movies Coming to Netflix in April 2023
A tour guide to love – April 27

A romantic comedy about a travel executive who goes undercover in Vietnam.
---
Netflix Original Movies Coming to Netflix in May 2023
Mother – May 12

A deadly assassin comes out of hiding to protect the daughter she gave away years before while on the run from dangerous men. Starring Jennifer Lopez.
---
Netflix Original Movies Coming to Netflix in June 2023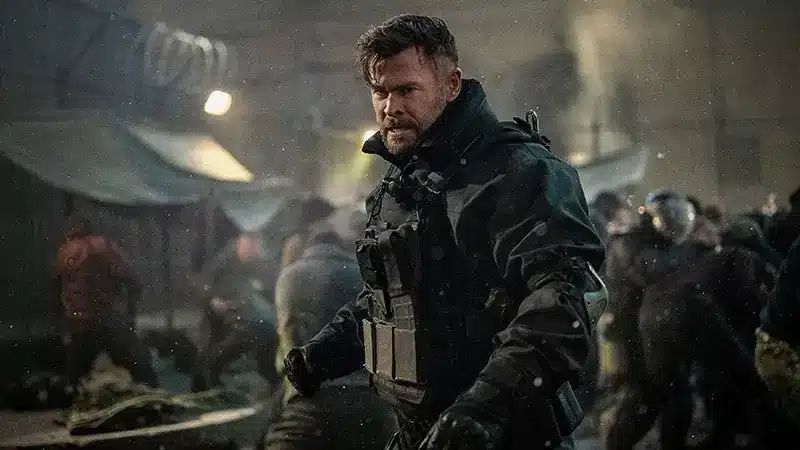 Extraction 2 – June 16

Chris Hemsworth returns for his second appearance as Tyler Rake and he's on a new mission: rescue the family of a Georgian gangster.
---
Netflix Original Movies Coming to Netflix in July 2023
They cloned Tyrone – July 21

John Boyega, Jamie Foxx and Teyonah Parris star in this crime thriller from Juel Taylor.
---
Netflix Original Movies Coming to Netflix in August 2023
Heart of stone – August 11

Gal Gadot stars in this big-budget action-spy thriller.

Raise – August 25th

Kevin Hart leads this film about an international heist team that is recruited to prevent a terrorist attack and must
carry out the heist on a plane in mid-flight.
---
Netflix Original Movies Coming to Netflix in September 2023
Love at first sight – Determined

Romantic film based on Jennifer E. Smith's novel, "The Statistical Probability of Love at First Sight."
---
Netflix Original Movies Coming to Netflix in October 2023
Damsel – October 13

Millie Bobby Brown fantasy epic.

pain scammers – October 27th

Emily Blunt and Chris Evans lead this crime drama based on the New York Times magazine article by Evan Hughes.
---
Netflix Original Movies Coming to Netflix in November 2023
The murderer – November 10

David Fincher's adaptation of the graphic novel starring Michael Fassbender.

a family affair – November 17

Nicole Kidman and Zac Efron romantic movie.

Lion – November 22th

Animated film about the last year of an elementary class told from the point of view of the class mascot. With the voices of Adam Sandler and Bill Burr.
---
Netflix Original Movies Coming to Netflix in December 2023
Leave the world behind – December 8

Sam Esmail writes and directs this adaptation of Rumaan Alam's novel.

rogue moon – December 22th

Zack Snyder's sci-fi fantasy epic starring Sofia Boutella, Djimon Hounsou, Ed Skrein, Michiel Huisman and Bae Doona.
---
Netflix Original Movies Coming to Netflix in Spring 2023
suck

Jonas Cuarón directs this fantasy film about a teenager who discovers a mythical creature in his grandfather's shed. Production by Chris Columbus.

kill boksoon

South Korean film from writer/director Byun Sung-hyun.
---
Netflix Original Movies Coming to Netflix in Summer 2023
happiness for beginners

Ellie Kemper leads this adaptation of the Katherine Center novel about a recently divorced woman who heads out on the Appalachian Trail with a group of strangers.

the perfect find

Gabrielle Union stars in this drama about a 40-year-old woman who risks everything for a lusty secret romance.
---
Netflix Original Movies Coming to Netflix in Fall 2023
nyad

Biographical film about the true story of a 64-year-old marathon swimmer who completes the Everest of Swims. Starring Annette Bening and Jodie Foster.

players

Romantic comedy by Gina Rodríguez and Tom Ellis.

Astronaut

Adam Sandler stars in this adaptation of Spaceman Of Bohemia about an astronaut sent to the edge of the galaxy who encounters a sentient spider.
---
Netflix Original Movies Coming to Netflix TBD
Better. Christmas. Always.

Christmas movie from director Mary Lambert.

Maximum Load (Review)

Netflix's first Brazilian action movie about a truck racing driver who starts driving for a gang of cargo robbers.

Chada Xpress

Indian drama about one of the fastest women in world cricket history.
Chicken Run: Dawn of the Nugget

Sequel to Chicken Run from Aardman Animation.

choose love

Interactive romantic comedy special.

the deepest breath

Documentary about a freediving champion training to break a world record. Set to debut at the 2023 Sundance Film Festival
Teacher

Bradley Cooper directs and stars in this biopic about the relationship between Leonard Bernstein and Felicia Montealegre Cohn.

Monkey Man

Dev Patel writes, directs and stars in this drama about an unlikely hero who emerges from prison to take on a world of corporate greed.
Nimona

Saved animated film from 20th Century Fox. Featuring the voices of Chloë Grace Moretz, Riz Ahmed and Eugene Lee Yang.

Reptile

Benicio Del Toro and Justin Timberlake star in this action thriller about a detective seeking to uncover the truth behind the brutal murder of a young real estate agent.
rustin

Biopic about Bayard Rustin, played by Colman Domingo.

shirley

Regina King will play Shirley Chisholm, the first black congresswoman in this biopic.

The Archies

The Indian adaptation of the comic is a live-action musical set in the 1960s.
the monkey king

Animated family film that follows a monkey and his magical fighting staff on an epic quest. Jimmy O. Yang, Bowen Yang, and Jolie Hoang-Rappaport provide their voices.

the outlaws

Adam Devine and Pierce Brosman star in this action comedy about a bank manager who suspects his in-laws, who have just arrived for a wedding, are a nefarious gang of thieves.

Untitled Wes Anderson/Roald Dahl film

Adaptation of several short stories by Roald Dahl, including The Wonderful Story of Henry Sugar. With Benedict Cumberbatch, Ralph Fiennes and Dev Patel.
Victim/Suspect

Nancy Schwartzman directs this documentary about journalist Rae de Leon who uncovers the shocking pattern of young women being ignored by authorities after being sexually assaulted.
---
As always, this list is likely just the beginning, with several movies missing that will have exclusive international distribution on Netflix, for example.
All dates are subject to change.
What movies do you expect to see in 2023? Let us know in the comments below.