Miami Heat guard Tyler Herro was on the court for the first time since he broke his hand during Game 1 of the first round of the playoffs against the Milwaukee Bucks.
But head coach Erik Spoelstra says Herro isn't ready for games.
"He won't play tomorrow," Spoelstra told reporters Wednesday before Game 1 of the NBA Finals on Thursday against the Denver Nuggets.
"We don't want to get ahead of ourselves at this point. He's still starting this process. We've got a few days here just to continue his work. I can't even make any kind of proclamation until he takes these next important steps. And that's with contact and doing more stuff on the court live. We'll see."
CLICK HERE FOR MORE SPORTS COVERAGE ON FOXNEWS.COM
There is no timeline for Herro's return.
However, it has to be encouraging for Heat fans to see a key player back on the court.
DRAYMOND GREEN EVISCERATES CELTICS FANS, EXPECTS THEM TO 'SUFFER' AFTER-GAME 7 HEAT LOSS
"I know we're all encouraged by the progress he's made, but we want to continue to be responsible and make the best decisions. It's not there yet," Spoelstra added.
Herro broke his shooting hand on April 16 against the Bucks and required surgery.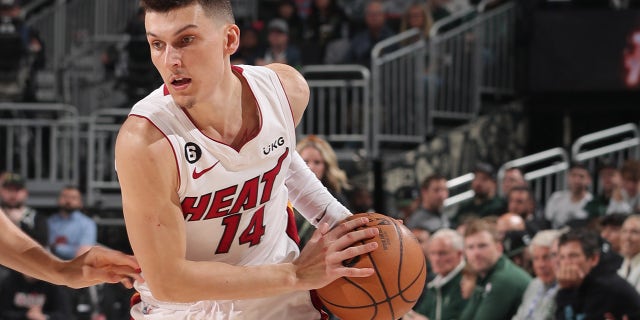 He underwent surgery on April 21 and was reportedly given a minimum of six weeks to recover. The six-week mark falls on Friday.
Things have been going well for the Heat since Herro's departure. Caleb Martin, Duncan Robinson and others have come off the bench and given the Heat valuable minutes, landing them here as the eighth seed against the top seed in the West.
Herro averaged 20.1 points per game this year, third on the team.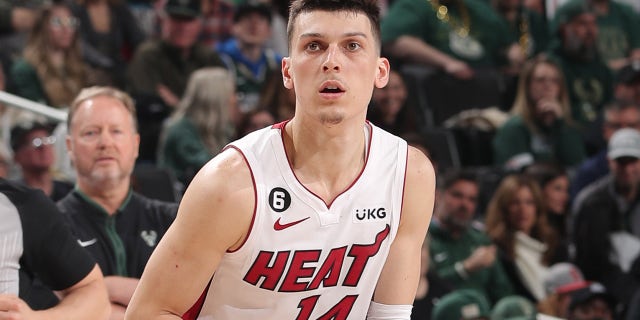 CLICK HERE TO GET THE FOX NEWS APP
Herro's state in the NBA Finals is worth seeing.