Fans who attended the australian open this year he will no longer be able to bring Russian or Belarusian flags onto the tournament grounds after an incident during a match on Monday between Ukraine's Kateryna Baindl and Russia's Kamilla Rakhimova.
tennis australia issued a statement Tuesday announcing a policy change after a Russian flag was seen "on the pitch" during Baindl's 7-5, 6-7 (8), 6-1 win over Rakhimova.
"Our initial policy was that fans could bring (flags) but not use them to cause disruption. We had an incident yesterday where a flag was placed on the pitch. We will continue to work with the players and our fans to make sure this is thus, the best possible environment to enjoy tennis."
CAMILA GIORGI DENIES THE ACCUSATIONS DURING THE AUSTRALIAN OPEN THAT SHE USED FALSE COVID-19 VACCINE DOCUMENTS
Another flag was seen during Russian player Daniil Medvedev's match against Marcos Giron at Rod Laver Arena on Monday night. After his 6-0, 6-1, 6-2 win, Medvedev was offered the flag to sign, which he did.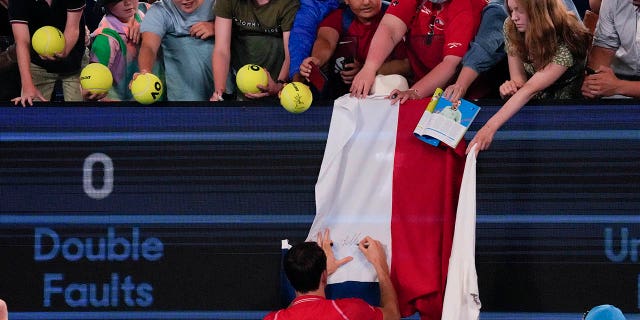 Vasyl Myroshnychenko, Ukraine's ambassador to Australia and New Zealand, took to social media ahead of the ban to condemn the "public display of the Russian flag."
"I strongly condemn the public display of the Russian flag during Ukrainian tennis player Kateryna Baindl's match at the Australian Open today," he tweeted. "I call on Tennis Australia to immediately enforce its 'neutral flag' policy."
CLICK HERE FOR MORE SPORTS COVERAGE ON FOXNEWS.COM
Australia's former ambassador to Ukraine, Doug Trappett, also took to social media to call the incident "disgraceful."
According to The Guardian, another Russian flag was seen during a match on Tuesday despite the ban. Tennis Australia told the outlet that the fans with the flag were "talked out by security and the flag was removed."
Russian and Belarusian athletes have been banned from competing in some tournaments, including Wimbledon, but they have been allowed to enter other Grand Slams as "neutral" competitors.
CLICK HERE TO GET THE FOX NEWS APP
The Russian embassy in Australia accused tournament officials of indulging in "overt and rather arrogant political manipulation" in response to the flag ban.
"In addition to discriminating against Russian tennis players with its 'neutral flag' policy, Tennis Australia has now gone further by ensuring that their fans cannot visibly support them," the embassy said in a statement, via Reuters.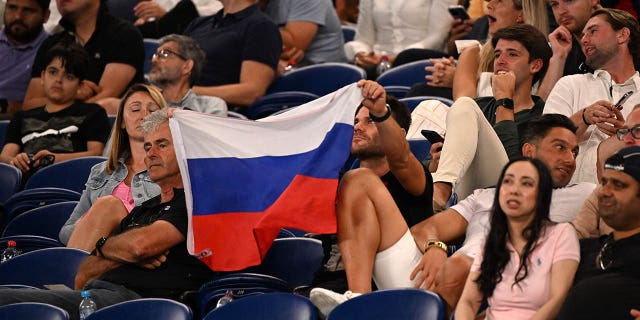 "It is indeed unfortunate to see the tournament organizers caving in to overt and rather arrogant political manipulation that sacrifices the spirit of fair play that was once inherent to the Australian Open."
Associated Press contributed to this report.