At least nine have died and more deaths are expected after more than a dozen tornadoes struck the southeastern US on Thursday, according to authorities.
Seven of the deaths were reported in Autauga County, Alabama, northwest of Montgomery, according to county Emergency Management Agency Director Ernie Baggett. Six of the deaths were reported the day the tornadoes touched down in the state and one was reported on Friday.
In Georgia, a five-year-old boy was killed when a tree hit the car he was riding in. The second fatality in Georgia was a Department of Transportation employee responding to storm damage, Gov. Brian Kemp said at a news conference Friday. .
Kemp said "multiple tornadoes" have struck the state and the damage is "literally all over the state in different places."
"Unfortunately, the storm moved across our state, it's been a tragic night and morning in our state," he said. "It's a very dangerous environment, certainly last night and it still is today."
Search and rescue efforts are underway across the southeast on Friday as authorities fear the death toll will rise.
"We will start our search again this morning to make sure we account for everyone," Baggett told NBC News. "We have, we're thinking right now, about 40 houses that have been completely destroyed or have been damaged to the point where no one can stay in them anymore."
Baggett said he had never seen anything like it in Autauga County before.
"It's complete devastation," he said. "There are a few, a couple of our county roads that only have one or two houses left that may be habitable."
Drone video shows extensive damage in Selma and Greensboro, Alabama, where roofs were ripped off buildings and trees were downed by the storm system.
In downtown Selma, some areas are littered with power poles, trees, and some roads are completely blocked.
Some residents have had to weather the storm system. One resident described leaving his car and seeking shelter in a freezer.
"Lots of prayers and calls to Jesus," he said.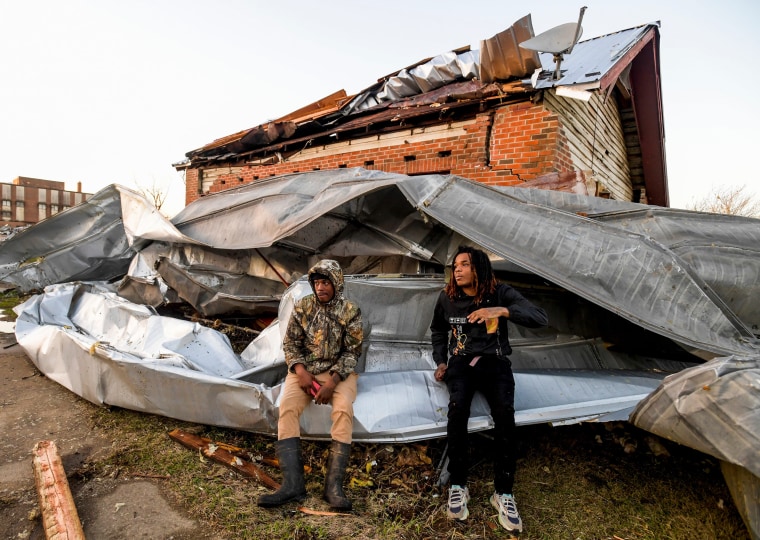 The National Weather Service office in Birmingham, Alabama, says it has received "many devastating reports of damage" and will survey the damage in the state over the next few days, according to a report. declaration.
In Georgia, multiple departments, including the state Emergency Management Agency, are responding and assessing the damage. The Department of Public Safety helped rescue students who were trapped at a high school overnight and reunited them with their parents, according to Col. Chris Wright.
Governor Kemp along with Lieutenant Governor Burt Jones conducted a helicopter damage tour Friday to also assess damage resulting from the tornadoes in the state.
Minyvonne Burke, steve strouss, Doha Madani, phil helsell Y nicole duarte contributed.