NFL All-Pro kicker Robbie Gould will be one of dozens of entrants at next week's American Century Celebrity Golf Championship near Lake Tahoe in Nevada.
The former San Francisco 49ers and Chicago Bears kicker will be one of the competitors looking to take down former Dallas Cowboys quarterback Tony Romo, who enters the event as the reigning champion.
"There's a lot of excitement this week because, not only is it its 34th annual year, I think this is my 12th or 13th time being at the event," Gould told Fox News Digital in a recent interview.
"But it's kind of a one-off deal where you get to see some of your friends, you get to see some customers that you've played with or befriended.
CLICK HERE FOR MORE SPORTS COVERAGE ON FOXNEWS.COM
"For me, from a golf perspective, I've been playing a little bit more. It's been fun going with my kids. I'm excited to get out there and see the 50,000 fans that will be there. Help raise money for charity. They've raised over $7 million for charity. This is the premier celebrity golf event. So there is a lot of excitement.
The Stowers Institute for Medical Research is the official charity of this year's tournament. Since 1990, the championship has donated 100% of its net profits to charity.
RISING GOLF STAR ROSE ZHANG INADVERTENTLY NAILED A SWEET TRICK SHOT GETTING READY FOR MAJOR
Gould maintains his amateur status. So any money he earns from the event will go directly to the charitable donation.
"It's great to be able to do that and give back to charity. And obviously I want to play well," he said, adding that he has a good idea of ​​how he will approach Edgewood Tahoe.
While Romo, Steph Curry, Aaron Rodgers, Derek Carr and Charles Barkley will compete for the trophy and bragging rights, celebrities like Colin Jost, Miles Teller, Ray Romano and Alfonso Ribeiro are on the docket.
Last year, even Justin Timberlake joined the fray. But Gould said he's not one to be surprised.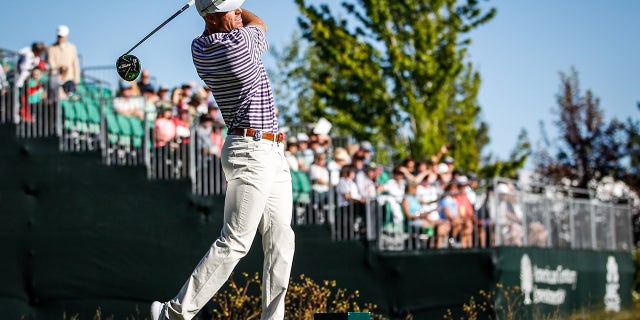 "I had the ability to play with some of the best players to ever walk in football. I mean, my career started with Tom Brady in that locker room when they were winning their third Super Bowl," he said. "You had Corey Dillon, Doug Flutie.
"Doug Flutie was the first man to hold for me, and he plays in this event. We still talk about how he used to dropkick me before practice for fun. And he's the last man to dropkick in national football." League. There are times when you never know when you're bumping into people."
Gould said he relished the opportunity last year to bring his children to the event and nearly took home the Dad of the Year trophy.
DAMAR HAMLIN HELP TEACH THE YANKEES' CPR CLASS SIX MONTHS AFTER CARDIAC ARREST ON THE FIELD
"I was able to bring my kids last year, and they were meeting guys that I play on Sundays, like Josh Allen and Travis Kelce," Gould told Fox News Digital. "Travis came up and said 'what's up' to my kids and he said hello to me. And my kids thought I was a superhero just because he came up and said hello.
"So it's fun for my kids to be able to see that because it's amazing to have role models in your life where these guys seem to be playing on 'The Match' and now they're playing on American Century. It's fun for them to realize what they do and be able to follow them in their careers.
"And, to me, this is more than just a golf event, and that's what it represents. It represents family, it represents charity. It represents one of golf's most prestigious celebrity events that when you get the invite, you say 'yes' ' correctly." away to make sure you lock up in your place".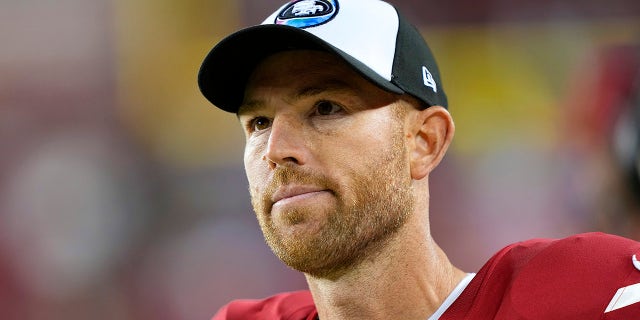 He finished 30th in the event last year and tied for 35th in 2021.
Gould has played in the NFL since 2005, when the Patriots signed him as an undrafted free agent. He was later signed and released by the Baltimore Ravens before becoming a mainstay with the Chicago Bears. He played 11 years in Chicago, one with the New York Giants and spent the last six with the San Francisco 49ers before being fired at the end of the season.
The 40-year NFL veteran is looking for his next team. He told Fox News Digital that he has had fun staying home with the kids, coaching their baseball teams and driving them to school. He said he has been "in talks with other teams, but no deals have just been made."
As he navigated free agency, Gould said he's still focused on bringing home a Lombardi Trophy.
"Well, the Super Bowl first and foremost," he told Fox News Digital when asked what he was thinking about when deciding which team is next. "Obviously, I'm 40 years old and I'm going into my 19th season. I think having the ability to win is a big deal for me."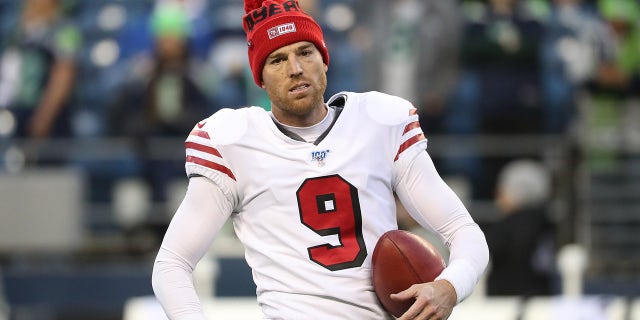 The 49ers teams Gould played for have been in the NFC Championship three of the past four seasons.
"I've tasted that success and I want to do it again," he said. "And I know the opportunity will come sooner than later. But right now, it's about keeping fit and my kids and having fun on the golf course."
CLICK HERE TO GET THE FOX NEWS APP
The first round of the American Century Celebrity Golf Championship begins on July 14 and continues through July 16. The first round can be seen on Peacock and Golf Channel. Round two and three are on NBC and Peacock.