San Francisco 49ers fans were probably breaking a sweat at halftime with their team in Santa Clara.
But the Niners showed in the second half on Saturday why they were heavy favorites against the Seattle Seahawks.
The 49ers dominated their NFC West rivals in the second half en route to a 41-23 wild card round victory.
It was San Francisco's 11th straight win, and quarterback Brock Purdy is now 6-0 since taking over for the injured Jimmy Garoppolo.
CLICK HERE FOR MORE SPORTS COVERAGE ON FOXNEWS.COM
The Niners' offense went into overdrive almost immediately, scoring on each of their first two drives on a Robbie Gould field goal and a Christian McCaffrey touchdown run. Seattle got on the board in the second quarter on a score by Kenneth Walker.
After Gould kicked another field goal, Geno Smith found DK Metcalf for a 50-yard TD run. Suddenly, the Seahawks were up 14-13 with just over five minutes to go in the first half.
Gould kicked his third field goal with 13 ticks remaining in the half, and the 49ers decided to block the kickoff. A personal foul by the 49ers put the Seahawks within field goal range. Jason Myers kicked a 56-yard field goal to put the Seahawks up 17-16 en route to the locker room.
But Seattle didn't keep up the momentum for long. The Niners responded quickly in the second half with Purdy's one-yard touchdown run to take a six-point lead.
The Seahawks were driving again and inside the red zone. But on third down, quarterback Geno Smith lost a fumble, and the Niners pounced and didn't give up.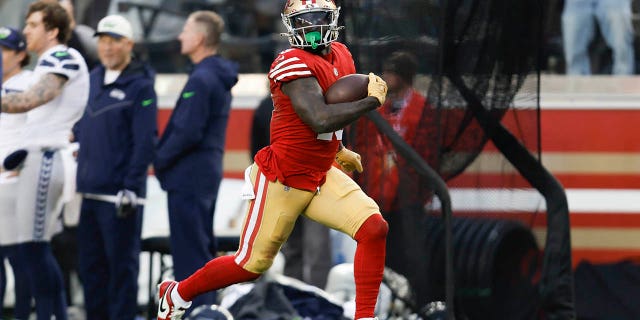 A seven-play, 70-yard drive ended with Purdy scrambling to find Elijah Mitchell for a touchdown, and the ensuing two-point conversion gave San Fran a 31-17 lead. Deebo Samuel added a 74-yard touchdown drive shortly thereafter.
The Niners outscored Seattle 25-6 in the second half.
DAMAR HAMLIN RETURNS TO BILLS FACILITY AS TEAM PREPARES FOR PLAYOFF GAME VS. DOLPHINS
Purdy finished with 332 yards on 18-of-30 passing, throwing for three touchdowns and rushing for another. McCaffrey added 119 rushing yards on his 15 carries, while Samuel finished with six receptions for 133 yards. Brandon Aiyuk added three receptions for 73 yards.
Smith was 25 of 35 through the air, passing for 253 yards and two touchdowns, along with one interception and one fumble. Metcalf caught 10 passes for 136 yards and two touchdowns in the losing effort.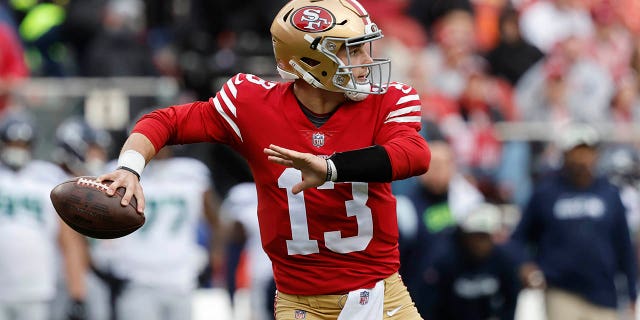 CLICK HERE TO GET THE FOX NEWS APP
The Niners now wait to see who their opponent is in the divisional round.